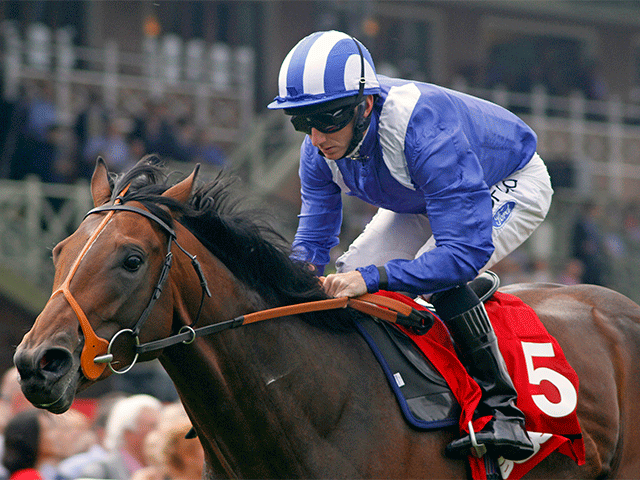 PEDIGREE
Estidhkaar
B. 2012 by Dark Angel ex Danetime Out (Danetime)
€ 5,000
(1st October)
Joint highest rated 2yo by Dark Angel
---
Sire: Dark Angel – Gr.1 winning two-year-old by ACCLAMATION.
Won Gr.1 Middle Park Stakes, Gr.2 Mill Reef Stakes, both at 2 years:
Already sire of ALHEBAYEB (Gr.2 at 2),
MECCA'S ANGEL (Gr.1, etc, 2015),
LETHAL FORCE (Gr.1, sire),
BIRCHWOOD (Gr.2 at 2, 2015),
ALHEBAYEB (Gr.2 at 2),
GUTAIFAN (Gr.2 at 2),
REALTRA (Gr.3, 2015),
MARKAZ (Gr.3, 2015),
STORMFLY (Gr.3, 2015),
EXOGENESIS (Gr.3 at 2),
HEERAAT (Gr.3),
LILY'S ANGEL (Gr.3), etc.
Dam: DANETIME OUT (by Danetime, Sire of Gr1 winners My Boycharlie, Bushranger, Megatic)
Unraced dam of 3 winners -
TOORMORE (c by Arakan) Champion European 2-Y-O, Gr1 winner of 6 races, £664,000,
National S, Gr1, Lennox S, Gr2, Vintage S, Gr2, Sandown Mile, Gr2, International Topkapi  
Trophy, Gr2.Craven S, Gr3, 2nd Lockinge S, Gr1, Lennox S, Gr2, 3rd Queen Elizabeth II S, Gr1,
Prix De La Foret, Gr1, International Topkapi Trophy, Gr2.
ESTIDHKAAR (c by Dark Angel) Group winner of 4 races, £154,000, at 2 to 4 years,
Champagne S,
Gr2
, Superlative S,
Gr2
, Ben Marshall S,
L
, 2nd Craven S,
Gr3
, 4th Dewhurst S,
Gr1
2nd dam: BANQUISE, winning half-sister to 4 individual Group/Stakes winners,
MATILA (by Persian Bold, Champion Sire, Gr1 winners incl Kooyonga, Persian Heights)
Winner at 3 and dam of 7 winners
Easaar(c by Machiavellian) Won 2 races, £264,000, 2nd Dubai Duty Free, Gr3,
Rayik, Won 8 races, £46,000.
Acclamation


Royal Applause


Waajib


Flying Melody

Princess Athena

Ahonoora


Shopping Wise

Midnight angel

Machiavellian


Mr. Prospector


Coup De Folie

Night At Sea

Night Shift


Into Harbour

Danetime out


Danetime


Danehill


Danzig


Razyana

Allegheny River

Lear Fan


Allesheny

Matila

Persian Bold


Bold Lad


Relkarunner

Peace Girl
Champion 2yo

Dominion


Olderfleet